N1MM_Toolbox
N1MM_TOOLBOX actual Version 06. March .2022
Downloadlink: https://app.box.com/s/yacto84sf1zk78h145l0gdrhc89mvhxd
- the userinterface was completly renewed, use n1mm_toolbox_new.exe to see the new ui.
Basically the documentation is ok but do not show the new userinterface - but it should be not difficult to use the new version.
Some information (but may be outdated :) ) - Read the included PDF File which is up to date
ATTENTION: The toolbox do not work on Windows10 32bit (only 64bit is working - thanks for info Fred). If someone need a 32bit Version - 32bit Version is included but lack on DXkeeper Gatewayfunction and the new lookup feature. The 64bit Version is fullflavored.
NEW: If you enter a call in the Entrywindow of N1MM+/DXlog and use "Space" or "TAB" to jump to the next entry field a Lookup UDP will send and the Toolbox check the callsign to the buddy list. If it is a buddy - a line like "Lookup DF1LX 1392" in RED in the buddy window.
The toolbox is now working with DXlog2.5x - I must update the documentation and check, if there are some feature not working (QSY command is still not working with DXlog as it do with N1MM+ - but this is a minor challenge)
Small updates for the statistic window on request of Kostas SV1DPI.
N1MM_TOOLBOX from 22. May 2021
- you need to read the "README.1ST" File please
- FFMPEG should be installed for recording (link see startpage).
Some time ago I was asked, if N1MM+ can manage "contestfree" areas - especially for the WAG contest to alert the user not to use such frequencies.
Other contestprogram can warn if you enter "forbidden" areas :) but N1MM+ do not.
I pass some ideas to the WAG manager and started to create a small tool for this purpose (I just started to learn python - I tried Freepascal before, but python is really "easy" to use).
Some weeks later my tool was ready for use - and I created some more feature which seems to be really usefull for daily usage
1. Buddy alert - based on a text file it analyse the udp traffic from N1MM+ for the included calls and if one of the calls is spotted it show it up in a smal window.
2. ON/OFF counter - for some contester it is useful to see the times how long they take part in a contest - it can be seen in N1MM+ too but I thought it is more effective to do it in this way as the toolbox show it.
3. Timer to show the time until a contest starts - it may make fun to see in really big letters how long you have time to start the contest
4. Pass the QRG from the buddy window to N1MM+
5. record and play audio files
6. and more
Short video I made how it looks like: https://www.youtube.com/watch?v=G6u8sBzZOeA
Start QSorder from N1MM_toolbox and configure it (set Stationnumber to 0 before!)
You can edit ini Files and txt files from inside of n1mm_toolbox.
DXkeeper and new Logger32 Gateway included
Changed window layout a littlte bit.
Some new ideas are on the road - but what you may need?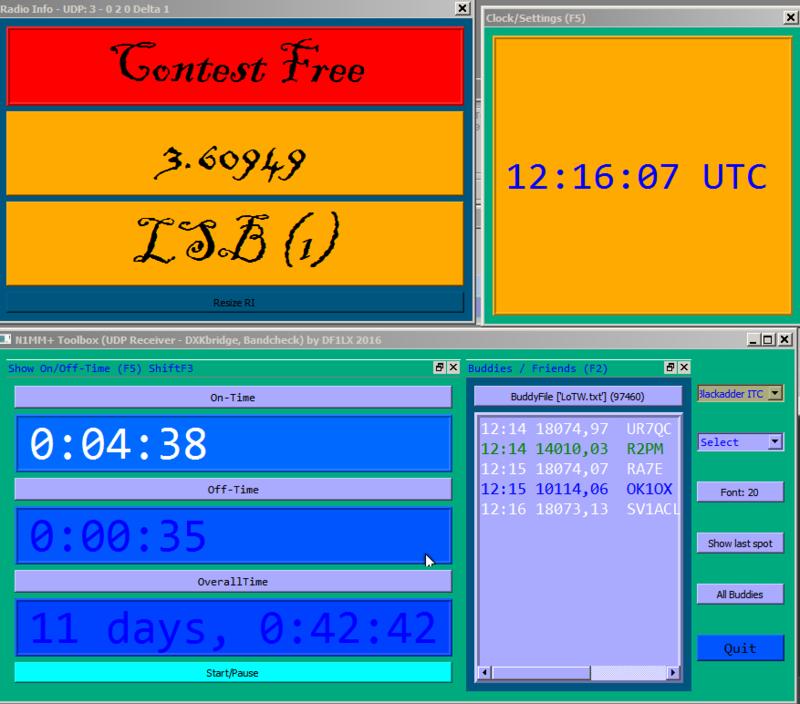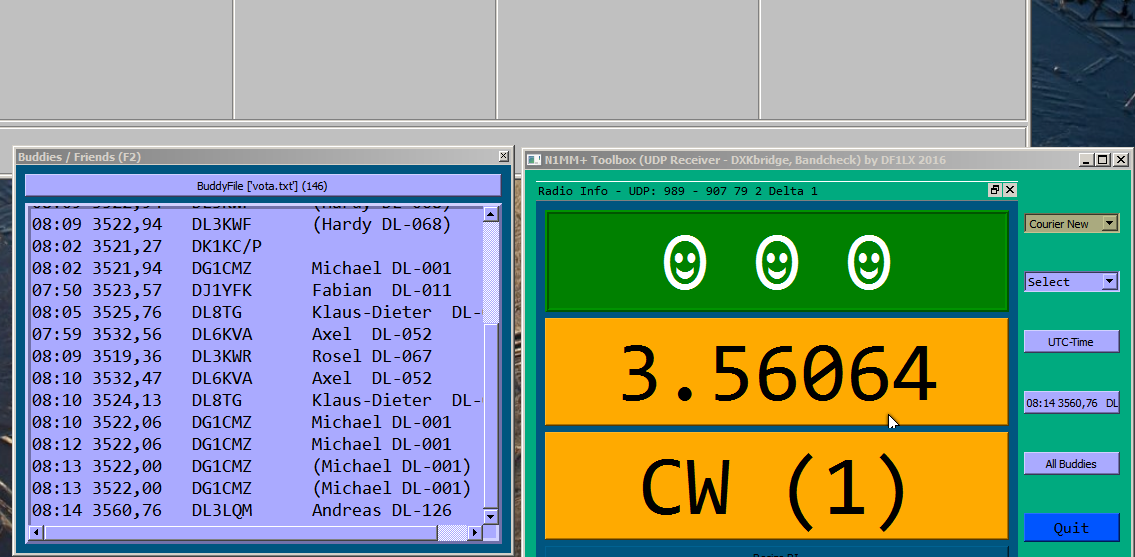 Please give me feedback, how the tool is and what can be changed for better usage.
Have Fun
Peter DF1LX