N1MM_Toolbox
BRANDNEW:
N1MM_TOOLBOX from 18. March 2021 - you need to read the "README.1ST" File please - FFMPEG must be installed.
Downloadlink: https://app.box.com/s/yacto84sf1zk78h145l0gdrhc89mvhxd
Some time ago I was asked, if N1MM+ can manage "contestfree" areas - especially for the WAG contest to alert the user not to use such frequencies. Other contestprogram can warn if you enter "forbidden" areas :)
Well - N1MM+ can´t do this and they do not want to include such a feature.
I pass some ideas to the WAG manager and started to create a small tool for this purpose (as I just started to learn python).
Some weeks later my tool was ready for use - and it got some more feature which are really usefull for daily usage
1. Buddy alert - based on a text file it analyse the udp traffic from N1MM+ for the included calls and if one of the calls is spotted it show it up in a smal window.
2. ON/OFF counter - for some contester it is useful to see the times how long they take part in a contest - it can be seen in N1MM+ too but I thought it is more effective to do it in this way as the toolbox show it.
3. Timer to show the time until a contest starts - it may make fun to see in really big letters how long you have time to start the contest
4. and some more ...
Update 20. July 2020: NEW Feature and new version uploaded!
Short video see: https://www.youtube.com/watch?v=G6u8sBzZOeA
Help document not updated until today
NEW: click on buddy and N1MM will switch to the QRG
Start QSorder from N1MM_toolbox and configure it (set Stationnumber to 0 before!)
You can edit ini Files and txt files from inside of n1mm_toolbox.
Maybe DXkeeper Gateway is broken (it should work but ...)
Changed window layout a littlte bit.
Some new ideas are on the road - but what you may need?
Last Version: 25. December. 2016 - UPDATE: NEW Version existing from 01.April.2018
- Some small bugs deleted
- Change to PyQt5.x and Python3.5.x
- Adapted to Windows10
- new creation of the EXE file - it reduces the number of files dramatically (only one + set.ini)
- all other files are within the contest directory (and a lot of MEMBER files more as before)
- n1mm_toolbox will start now with buddies.txt for quick start - but you can change it during the program runs
- If you have challenges with the layout - n1mm_toolbox can be restarted with the first standard layout - see the selection box
NEW downloadlink: https://app.box.com/s/9nioodyny0jd33xs103i73zy8c8trkqw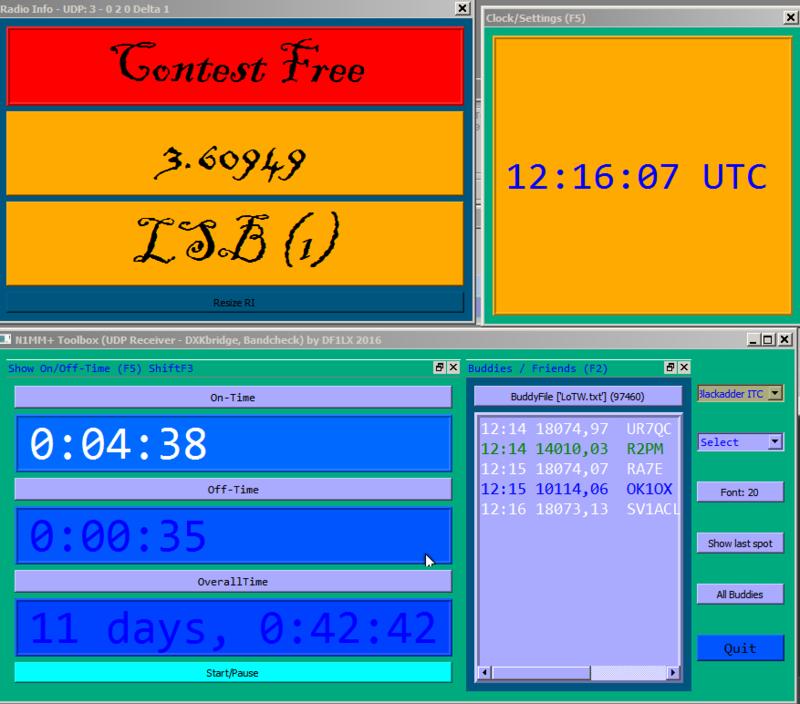 OLD Version download: https://app.box.com/s/ga5fy4nn2iuy7f6ud09ugp1geyt6k5ui
OLD Rename the file to .EXE - start this file and extract to an own directory
You can start n1mm_toolbox without any change of the ini file :)
You have to change the UDP port in N1MM+ to the same one as in the ini file. Be aware that it is not used from other external SW like Athena or QSorder - each need an own UDP port (I use e.g. 12060, 12061 and 12062 - one is exclusive for N1MM_toolbox) - 12060 is standard in n1mm_toolbox.ini (see within /contest directory)
Buddysetup is easy - as some examples are included - standard CSV files but only the first two columns are evaluated. You can create for your own such file but use a "," and not a ";"
Layout can be switched via F-Key (try press F3 - F6 + ...)s to have only the interesting areas on the screen
Click into the titles let you put the window as you need on the screen or second screen.
NEW: Timer to count the ON-, OFF- and Complete Time.
Timer to show the time since last QSO.
Timerfunction working but need more feature
Windowpostitions are now saved if close the program
New Layout and colour - On/Off couters are running fine
Bug: Clockwindow sometimes have problems to get it small as needed - will be fixed next time.
Please give feedback - it seems it is in use but no problem is reported until today :)
New feature request are welcome - or someone want to make own changes - the sourcecode is not on GitHub or ... But if someone want - no problem (I may include a small DX cluster like in my logging SW hostilog - but my main contest program is N1MM+ only)
For the new created VOTA award from the WRTC2018 team I only created a small txt file with known VOTA member - and today (14.01.2018) it works fine in the VOTA activity on 80m have a look to the screenshot:
- Lines with (text) mean, that I have already worked the VOTA member like seen DL3KWF and DG1CMZ. They can be hidden pressing on the "ALL Buddies" button.